Message from the President Masayuki Matsushita
Our foundation aims to contribute advancing in the culture, peace and prosperity of the world by "promoting mutual understanding in international society" and by "creating a society based on the concept of the coexistence of Nature and Mankind," following the will of Konosuke Matsushita, who is a founder of this foundation and my grandfather.
In recent years, politics/economy/ environment are unsettled and inexperienced natural disasters occurred frequently in Japan and in countries all over the world.
It worries me that anything could happen next.
In Japan, there are indications that things are getting better in low Yen rate and high stock price since political power change last year.
It is expected to be getting important more and more Japan and foreign countries comprehend and cooperate each other under the recent globalization of the world.
We at The Konosuke Matsushita Memorial Foundation will continuously strive to achieve its purposes by providing funds and awards, with an international perspective, to academic research and projects in line with our founding philosophy.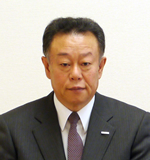 Masayuki Matsushita, President
2018. 4.1
Masayuki Matsushita, President
The Konosuke Matsushita Memorial Foundation